The festive season is (almost) upon us and that means one thing for glitter queens and snow fairies everywhere: new, Christmassy products from Lush to get excited about! I popped in to Lush Newcastle to have a go at making my own glittery bubble bar (spoiler: it was messy) and chat with the ever-effervescent staff about this year's Christmas range. I left in a puff of gold dust, trailing the unmistakable, heady scents of bergamot, vanilla and all things Lush behind me.
So, in true 12 Days Of Christmas style, here are my 12 best buys from Lush's Christmas offering. After all, a Lush bath is one of life's lovely little indulgences, isn't it? It's like going to a spa for a few hours – except you know, it costs about a fiver.
What to buy from Lush this Christmas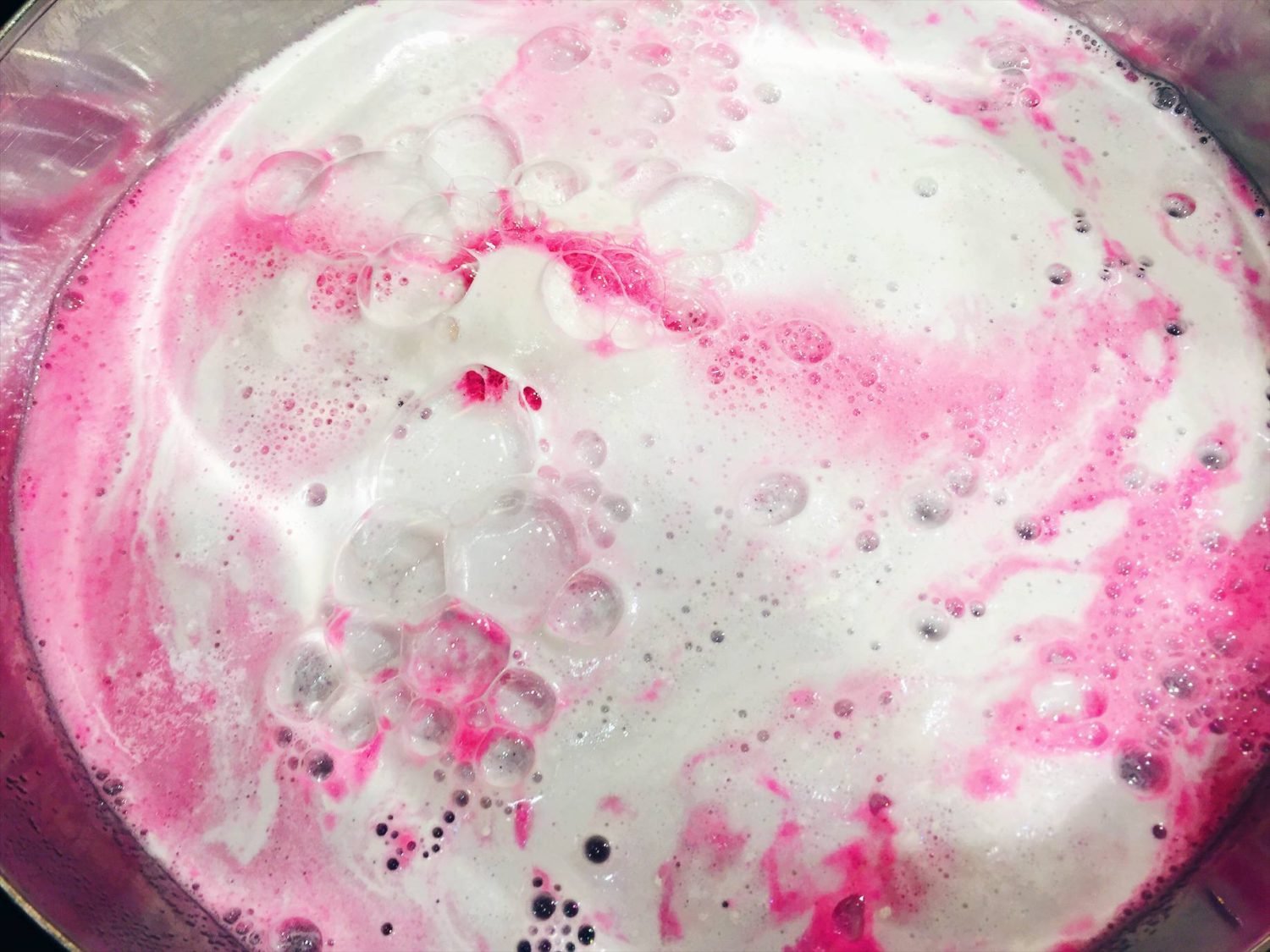 Golden Pear Soap
£6.50 each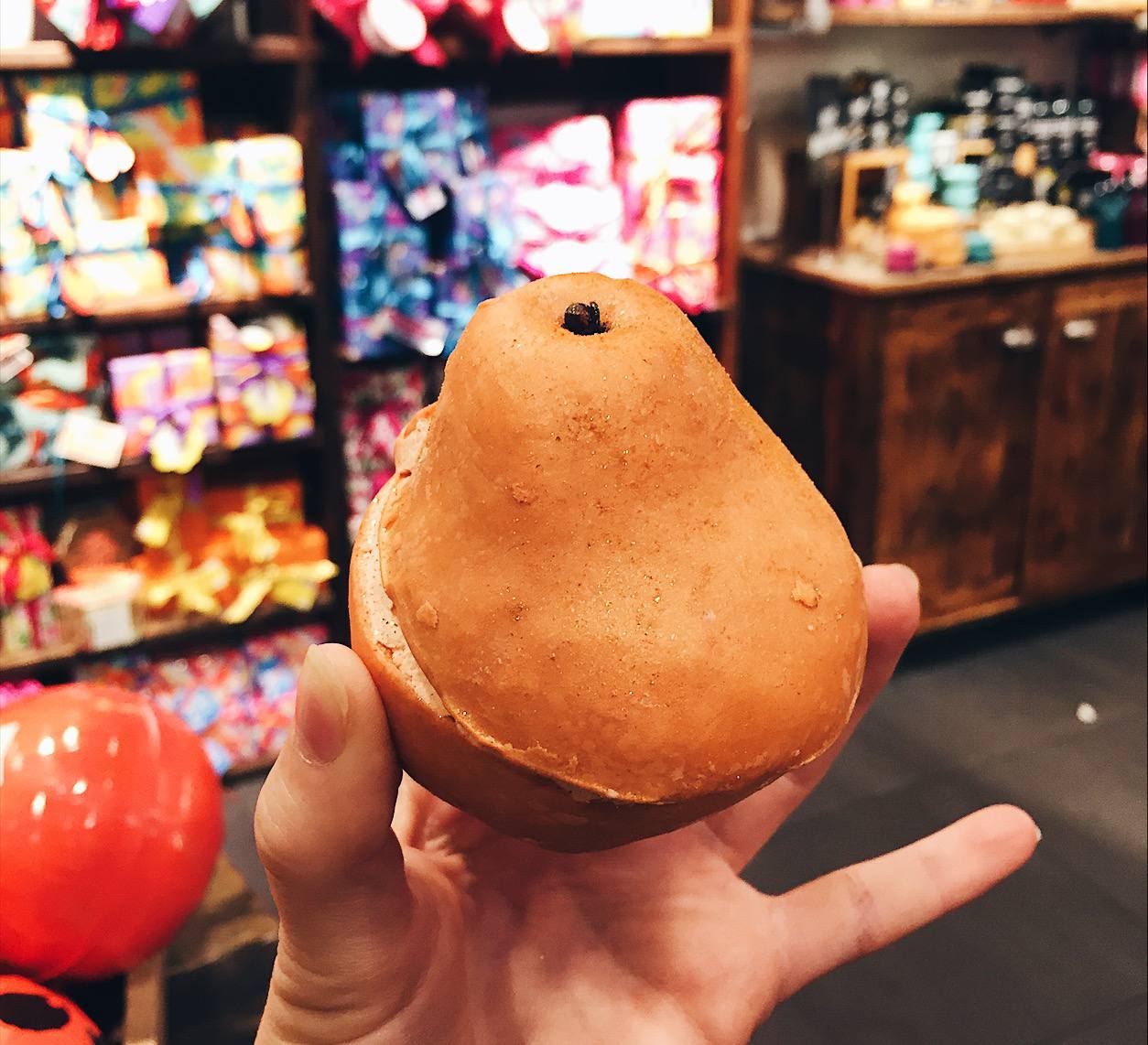 I'm told that Lush staff are unanimously agreed that this will be 2017's Christmas sell-out product. It's pear-shaped, it has a wonderful light pear scent and it's just so unique! Pear purée and cardamom oil make for a wonderful warm, Christmassy cocktail to lather yourself in. I went straight for this fruity little number as soon as I walked in to the shop.
Snow Fairy Naked Shower Gel
£8.25 each
Everyone's favourite cold season Lush scent, with zero packaging. Fair Trade cocoa, avocado and mango butters nourish your skin while the sugary cherry infusions comfort your soul. I used and loved this shower gel last year, and now I'm a convert to the eco-friendly option. Lush are using Christmas to really drive home the plastic-free movement, and I think we can all agree that deserves a round of applause.
Twilight Sparkle Jar
£6.95 each
With a lavender, ylang yang and tonka-laden scent borrowed from the slumber-inducing Sleepy, a product which went viral recently thanks to numerous people's vows that it had them (and their newborn babies!) drifting off in no time, this sparkle jar doubles as a massage bar. Dreamy.
Thundersnow Bath Bomb
£4.50 each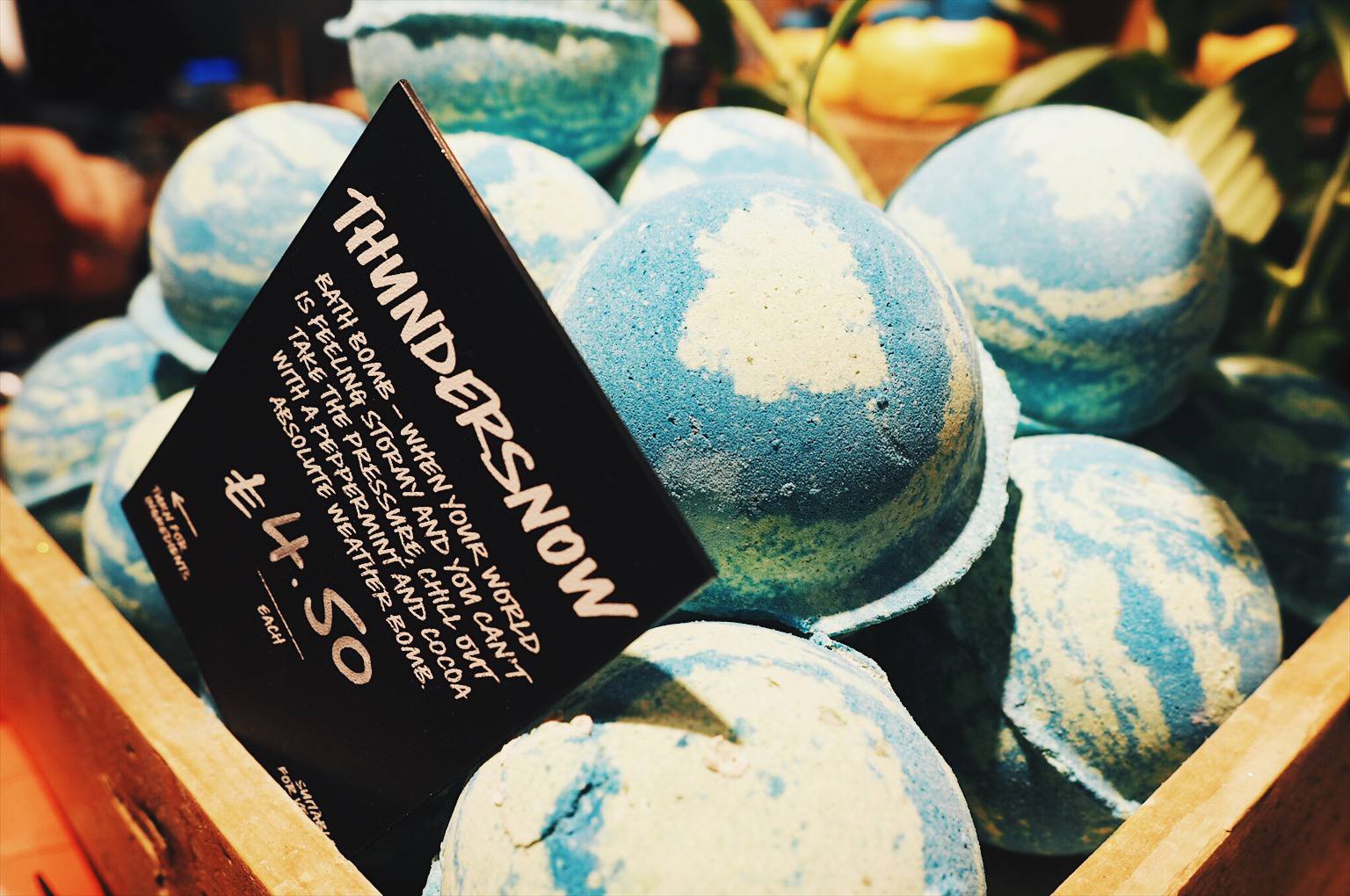 This bomb turns your bath into a chocolate and peppermint scented milkshake that serves as the perfect antidote to cold winter nights. The aquamarine hue and popping candy make this one of the most memorable washes you'll ever have.
Christmas Sweater Bath Bomb
£4.50 each
Why so Americanised? Or should that be, Americanized? Still, this jolly bath bomb envelopes bathers in a comforting bubble of Sicilian lemon oil, mustard and ginger. Basically, it warms you like your favourite (not scratchy) Christmas jumper.
Plum Snow Bubble Bar
£5.95 each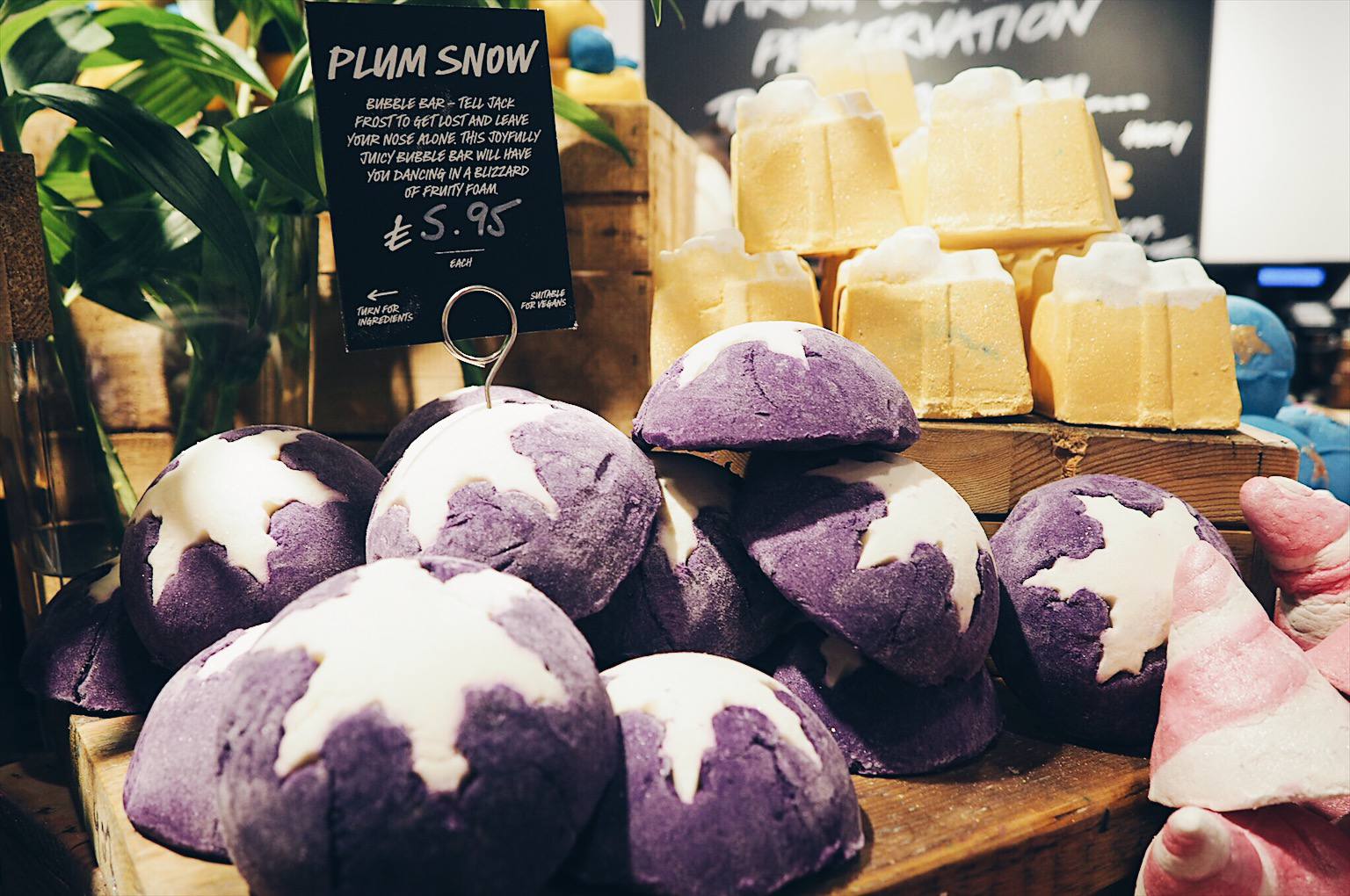 It's massive, it's purple and it has a hint of mandarin. If you like the Plum Rain Shower Gel, run this bubble bar into your Christmas Eve bath. It'll be like Christmas come early.
The Snowman Bubbleroon
£4.25 each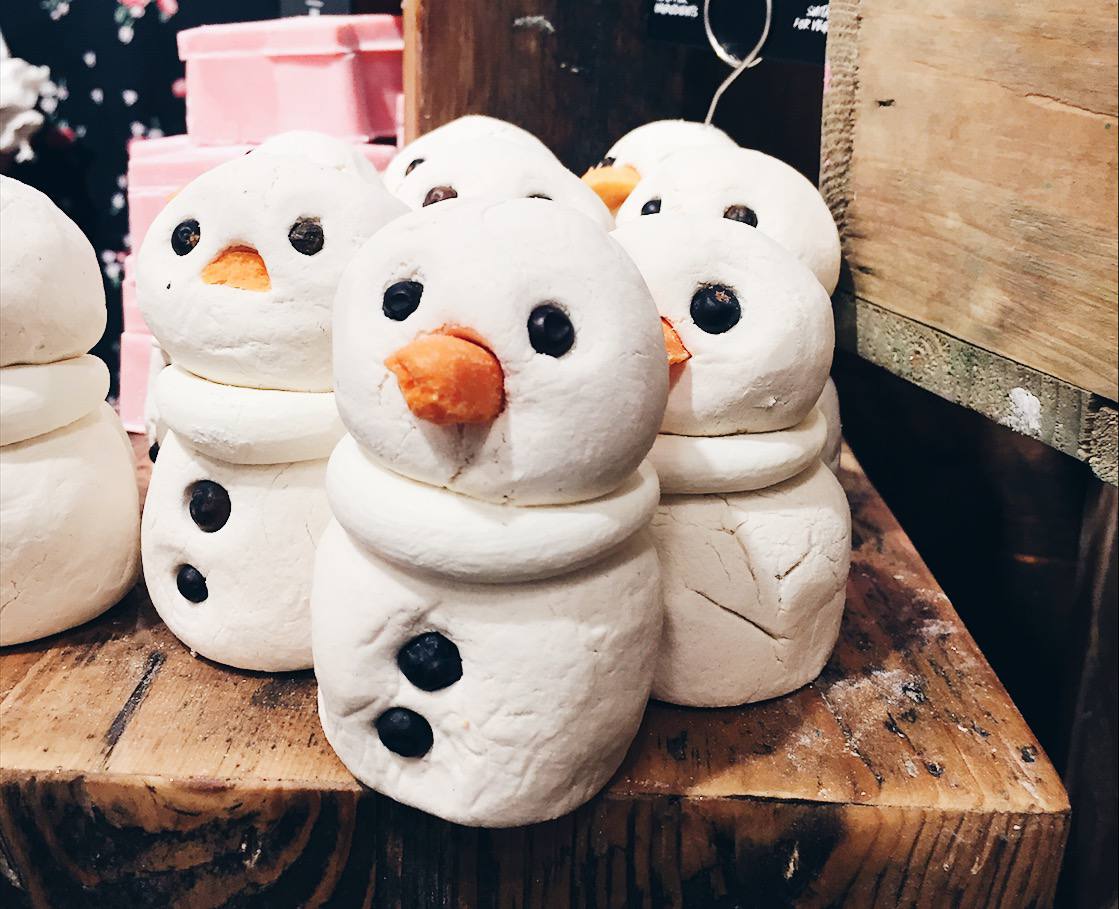 Frosty the Snowman is back at Lush and he confusingly smells like a summer's day – Sicilian lemon and lemon myrtle oils refresh your senses while cocoa and shea butters moisturise. Buy it purely for the gimmicky shape. This scent takes a different form during the rest of the year and turns snowman-shaped for winter: the ultimate glow-up.
My Two Front Teeth Bubble Bar
£3.95 each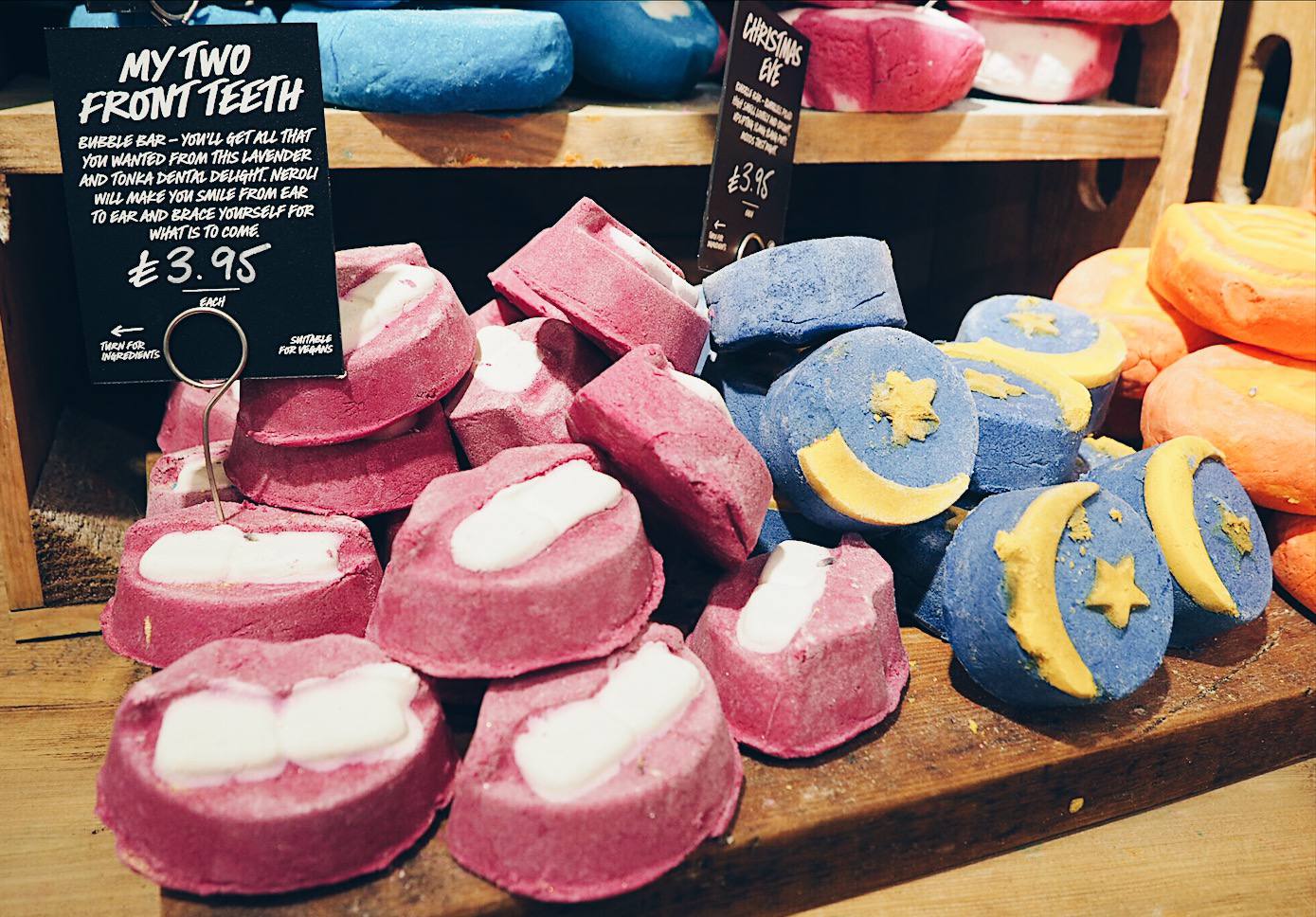 All I want for Christmas is a bath filled with My Two Front Teeth bubbles. Also, it's fun for selfies around the Christmas tree. Vanilla, lavender, tonka and neroli oil wrap you up in your own little bubble of fun.
The Magic Of Christmas Reusable Bubble Bar
£5.95 each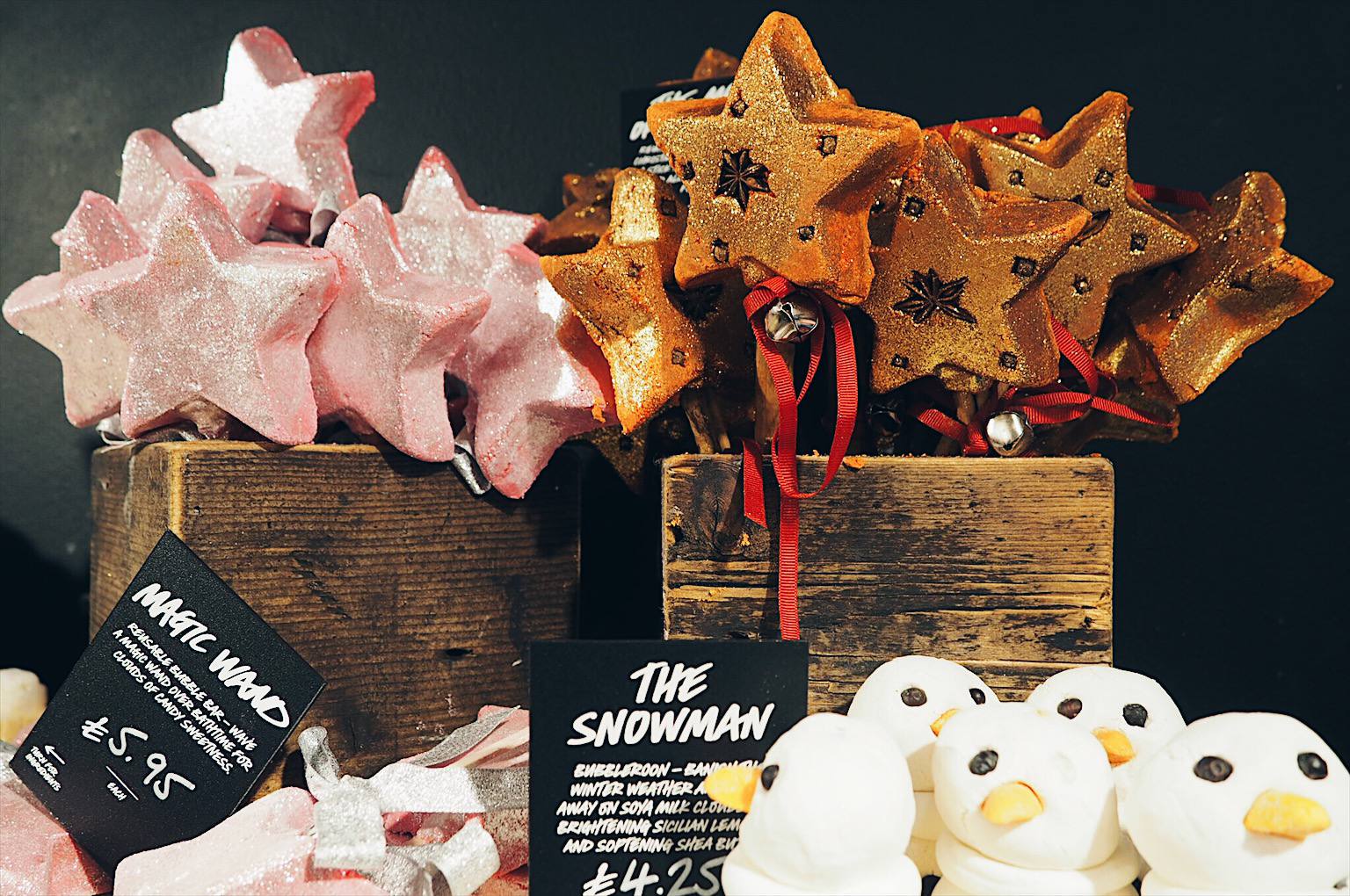 Wave this cinnamon-stick scented magic wand around and you'll get about ten baths out of it – one of the more value-for-money Lush Christmas products. You can even hang these on your tree!
Santa's Belly Shower Jelly
£4.75 for 100g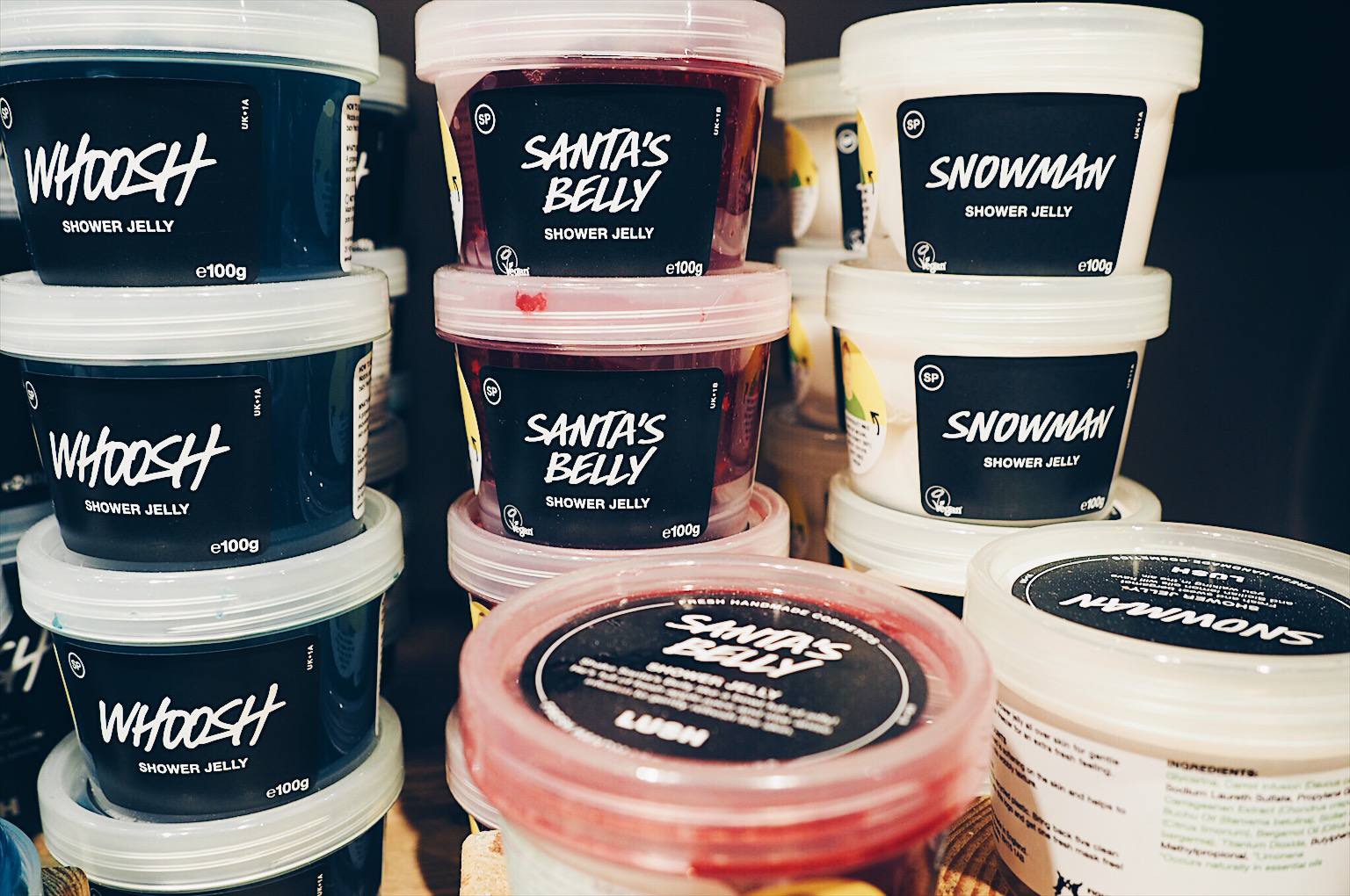 If you've ever fancied shaking your belly like a bowl full of jelly in the tub, you can now do so with this festive shower jelly made with Carrageenan seaweed. The question is, are you ready for this jelly?
Tree-D Bath Oil
£4.50 each
It's not very big but it's Christmas tree shaped! Tangerine and grapefruit scents cut through the cocoa butter and almond oil to remind you of the contents of your Christmas stocking. Am I the only one who got citrus fruits in theirs?
Shades of Gold Frankincense & 

Myrrh Lip Block
£12.50 each
In my opinion, this block of glitter would be best used as an on-fleek highlighter or eyeshadow. If you're planning to rock a gold shimmer lip to your office Christmas party, try applying with a lip brush for optimum shine. I'm wondering if there are actual precious metals inside because that would explain the price, but I suppose the three (thousand) wise ladies at Lush deserve the dollar for making such a fun lip product.
Wow, Lush's product names really leave scope to go wild with the puns, don't they? Ah well, Christmas is all about bad jokes and extra indulgence. Let me know if you've tried any of the seasonal stuff in Lush yet and which little gems you're looking forward to scooping up!
Share this post with your Lush-obsessed friend and make sure you're following me on  Facebook, Instagram and Twitter. You can also subscribe to my weekly newsletter to make sure you never miss a post.
All photographs were taken on my Olympus Pen E-PL7.